Egon von Foidl
: Alan Tijseling
: Andrew Geerlings
: Popular Places Magazine edition 7
'The key to success for Suriname tourism is branding, the key to success for a hotel is the people that work in it'
Egon von Foidl, the charismatic and flamboyant Austrian MD of Courtyard by Marriott, managed to turn 'his' hotel from an anonymous new kid on the block within a couple of years into one of the Grand Ladies of the Suriname hotels. The Marriott as it is shortly named by the Suriname people is vivant, dynamic and despite of the current economic crisis well occupied with guests. Popular Places wanted to learn more about this unique MD and visited Courtyard by Marriott at the Anton Dragtenweg.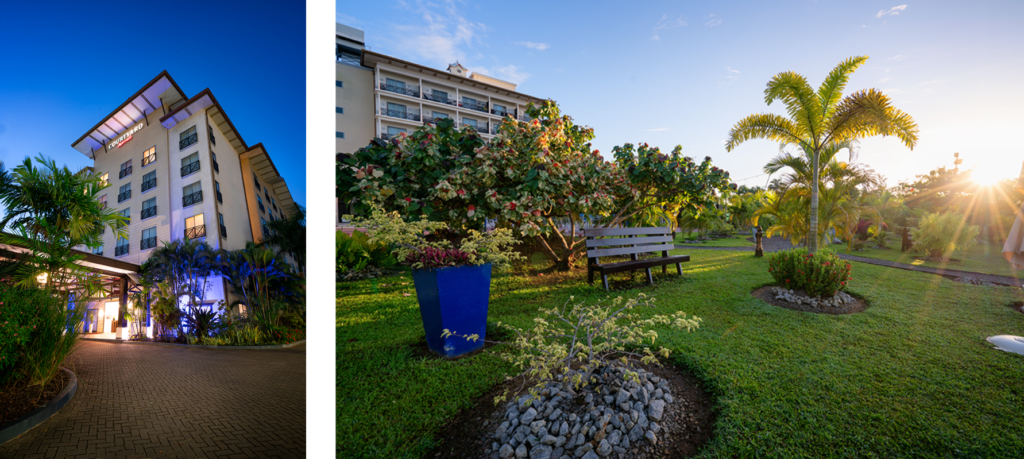 He definitely is a people's person, you notice it when he walks you through the hotel. An open ear for every guest, a friendly word for every member of the personnel. 'It is my believe that a hotel is made by the people who work in it. All the people, not only the managers but everybody who is working here. From dishwasher to general manager, and I consider myself the less important of those two. If I am not around for a day no one probably notices, if the dishwasher forgets to clean one plate good, we have a complaining guest.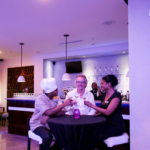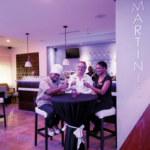 Every month we have a meeting with management and associates in the hotel and we talk about everything that's be going in the previous month. Not only the banquets or the functions but also matters of marketing, human resources and finances. I want everybody to know and understand what is going on in our hotel. I don't want them only to know product, our price lists and menu's but also want them to understand what the costs are of everything we do here. Make them realize that every aspect of our operations costs money and the bigger the gap between costs and profits the better it is for all of us. Explain to them why we do certain things and why we wait to do other things, or sometimes even don't do them at all.'
Man of the world
He studied at the Hotel school in Austria and specialized as a Chef. 'For me that is where the challenge to good hospitality lays. It's not so hard to learn about check in's or housekeeping, but to make a good sauce, to know the stress of getting multiple orders in a kitchen at the same time, that is where the real challenge is.' He graduated successfully and became one of the youngest Executive Chefs in his home country. Not for long, the world seemed so much bigger to him then just Austria. South Africa had a lack of foreign –read white- workers and the government had an arrangement, a ticket, ten days stay on their costs and who ever would find a job was welcome to stay. He learned a lot in South Africa, not only the hotel business but even more about working with a diversity of ethnics, different people. After five years in South Africa he worked shortly in England and Austria and then immigrated to Canada. Starting in Toronto his career would really take a flight in Canada and the USA.
In his mid-thirties he reached the top of hotel industry as president of 5 star hotel companies such as Windsor Arms Group, Sutton Place Hotels and thereafter president of Ritz Carlton Hotels Washington DC. and New York City. At that time he realized he knew everything about operations and hotel management, but how would it be to start a hotel from scratch, buy a piece of land conceptualize the project, cost it out and build a hotel or resort. After he left Ritz Carlton He established HRG International a development and consulting company. Projects included location in Canada, the USA, China, Eastern Europe, the Caribbean and eventually Suriname. He managed some of the greatest names and iconic hotels in the business, and has now chosen this project in Suriname.
With your resume what would you consider are the immediate improvements you notice that are necessary for a good tourist sector here in Suriname. And how doable was it to transform the Courtyard by Marriott into a hotel that also caters to the local needs. But first, what do you think Suriname needs for its tourist sector?
'Suriname has never been branded or established as a tourist destination and at present has no profile globally except in some sectors of the Dutch market. What is needed is a strong commitment from the government that has to include the allocation of funds to promote and market the country. Advertising campaigns, promotions, trade shows etc. are a must. The beauty and diversity of the country needs to be seen by the world.'
Do you think a lot could be done without government help?
'With the establishment of the Suriname Hospitality and Tourism Association "SHATA" representing the private sector a strong base and strategy is established. SHATA representing the various tourism related industries and with the support of CBI is working on the branding and marketing of the sector. SHATA like other tourism associations such as Curacao, Aruba, St. Martin, St. Lucia have the full support of the public sector/government therefore showing the success we see.'
What direction should be best for Suriname to go with tourist sector high-end quality?
'Suriname has so much to offer, not only the rain forest but also so many great cultural festivals and holidays that tourist from many countries would appreciate. We have facilities such as The Royal Torarica, Marriott, Kabalebo that cater to the high end Market. I am convinced that with proper marketing this segment can be expanded and that other high end facilities will be developed.'
What direction should be best for Suriname to go with tourist sector to get more mass tourism?
'I don't think Suriname is a mass tourism destination. Suriname is unique in its offering and a new destination for many, because the country is not known broadly. Direct flight on SLM to and from Miami will offer opportunities to establish a new market that will find the beauty and diversity of the country fascinating.'
Have you seen similar size economies and tourist sectors, can something be done for Suriname?
'Many destinations in similar economic size saw the potential and governments dedicated funds for the development of the sector. Countries such as St. Vincent and the Grenadines, Barbados, St. Lucia, Aruba, Curacao all started small but with the commitment of the government and the private sector great success was achieved. I see a great future for the industry in Suriname as long as the government sees the industry as an alternative to mining, timber and oil.'
Is the sector in Suriname professional enough?
'The sector has from the private sector very committed and professional people, further training on service and guest relations is an item SHATA will address.'
What are the specifications about the performance of the hotel? Anyone can see the difference, but maybe you can explain what you've let me say achieved so far.
'Over the last 2 1/2 years many capital improvements were made, such as the pool, garden, new restaurant and other highly visible changes. Key to our success was the consolidation of departments the empowerment and cross training of associates. Consistency, low staff turnover, mentoring, training are the key to success and we have managed this very well. We focus on positivity and YES WE CAN and not negativity.'

During the interview we can't help noticing the beautiful ring Egon is wearing around his finger, at the end of the conversation our curiosity wins. 'What kind of ring is it you are wearing, is it your family seal.' Egon smiles and shows us the ring, the inscription is in Arabic and reads 'Inshallah', God Willing 'It was given to me by a Lebanese hotel guest, years ago,' in Toronto he explains, 'the good man stayed for two months in the Sutton Place Hotel, that I was managing at the time and I spoke him frequently. At the last day of his stay he came to me and gave me the ring to show his gratitude for the excellent stay and friendship we developed. Much to my surprise the ring fitted my finger perfectly and I consider it as a token for how I did and do my job. It has never left my finger since.'