Max Resomardono – Chef de Cuisine
: Max Resomardono
: Max Resomardono
: Popular Places Magazine edition 9
Max Resomardono, Chef de Cuisine who will take care of our culinary page and will provide us with unique recipes you must try and share!
For 15+ years I had an amazing job in the USA. At world-class sports stadiums and arenas such as the New York Yankee Stadium, Chicago Bears Soldier Field and San Diego Petco Park to name a few I held numerous top Food & Beverage positions like managing restaurants, bars, clubs and concessions. Each season I met wonderful friends, clients, top chefs, influential people, top athletes and above all hungry fans. In these stadiums, we provided topnotch service and amazing food that completed the enjoyment of the sports experience. In each stadium I hired, trained and managed over 200+ workers and ran successful events. I can't even remember all of them. Above all a dream job.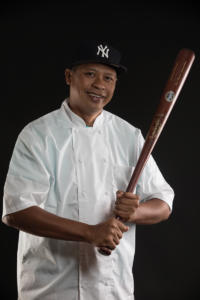 Born in Suriname, I missed the great food, warmth, family and the fresh Amazon oxygen. Locals are spoiled with the smell of fallen leaves, fresh flower scents, fresh water streaming down from the interior, clear skies and I can go on and on. After living abroad for 23+ years  you don't realize how many nephews and nieces' names you have to start learning at the first family gathering. And where there is a family gathering, there if food. You just can't keep up putting it all on one plate. Going for seconds or a third time is a must.
Once I settled in Suriname, I started to work as a Consultant at Torarica Group of Hotels. There I met tourists and locals seeking a taste of Surinamese classic food, premium service and hospitality. I shared my food and beverage experiences where it was needed; for training, in the kitchen, manager meetings and more.
In the meantime my brother and I started a small eatery at the Saoena Indo market at the corner of Johannes Mungra- and Anamoestraat. There I wanted to find out what locals like to eat, which herbs/ ingredients they didn't know, what they were willing to spend and simply if they were willing to try my food. We prepared tacos, pastas, hot dogs with toppings, soups and more.  The end result in one word; successful.  Every Sunday morning we arrived at 7:00 am and were sold out by 10:30 am – if it didn't rain. After 3-4 months I had an idea of the direction I should market my next concept. We left because the place was lacking basic food and kitchen sanitation. When it rained, the footpaths were flooded. Some parts of the roof were so low I hit my head at least 3 times a day. Now, in the last 3-6 months, the conditions have improved and the place opened its doors for more business and visitors. We never returned, but up to this day our fans still ask us why we left.
Within a year we established Lolo Koekroe Catering which would cater for private events and weddings. Our concept was not to offer local traditional food but rather international cuisine with a local twist. At first our customers were not used to the small bite concept, but once they tasted it and it met their appetites we received more requests. We have catered numerous exclusive weddings where our small bite concept became the new trend instead of the usual cold buffet.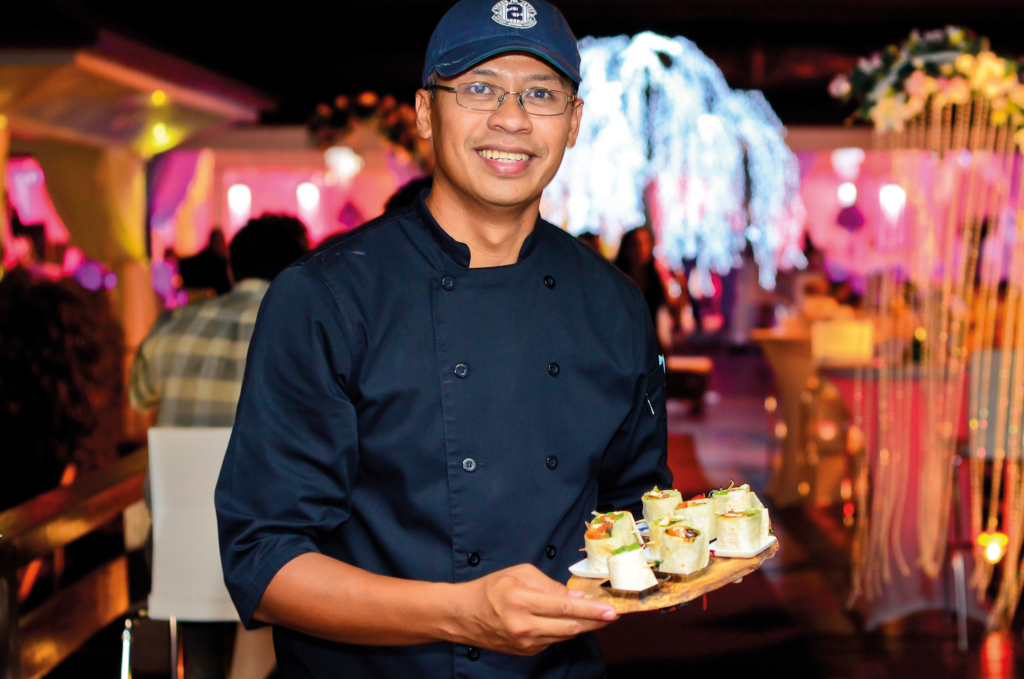 Within 2-3 years more people started to get to know our catering concept and consultancy. Upcoming restaurant owners wanted us to consult them on opening their restaurants. Others were simply looking for an upgrade or two. One of our successful clients is Mighty Racks which offers smoked beef and pork ribs. They are considered to be one of the top restaurants in Paramaribo and have just introduced a 700-gr beef or chicken burger. Definitely a place to get great food and an ambiance for the whole family to enjoy.
Houttuyn Wellness Resort also became a client. I assisted in setting up the kitchen, making the menus and giving ideas to take it to the next level. I believe once they will complete some rooms for guests to stay overnight, locals will use the wellness facilities more often and feel as if they are on the island of Bali. They will be a tourist within our own beautiful Suriname.
"Mi Lostoe wan saoto soepo" I answered my Mom when she asked what I first wanted when I arrived back in Suriname after 23 years living across the USA. Nowadays when my friends and customers ask me why i came back, I simply answer "For the Love of my Country".