Suriname Chef's Association
: Rosita Leeflang
: Erwin Neles
: Popular Places Magazine edition 11
When travelling to a foreign country for vacation, there are a few things you want to experience like, adventure, arts, fashion, comfortable, and safe accommodations.
High on your list should also be experiencing new flavors. For foodies, Suriname is the place to be. Our cuisine is internationally known, and each year we win awards for our indigenous spices and produce.
The Suriname Chef's Association puts Suriname on the world map of cuisine each year, which contributes to our cuisine tourism. A team is selected each year from various restaurants and they train an entire year to take part in the "Taste of the Caribbean" in Miami, Florida. "The Taste of the Caribbean" is a culinary event that is organized and hosted by the Caribbean Hotel and Tourism Association (CHTA). Suriname recently became a member of the Association and along with the Suriname Chef's Association strives to take part in this event each year.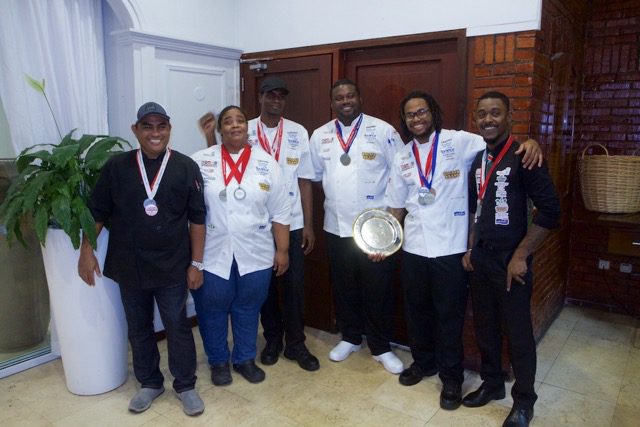 On June 2-6, 2017, they took part in the "Taste of the Caribbean" with a team of 8 persons, who are chefs and/or bartenders. The team won the Hans Schenk Commemorative Award for "Most Innovative Dish Utilizing Indigenous Ingredients." The ingredient used was Cassava. Cassava is a root that is used for many delicacies in the Surinamese kitchen. From this root, chips, soups, drinks and deserts can be made.
Once again, this is proof of how uniquely our chefs utilize our native ingredients. Each culture prepares it differently. The award winning meal was prepared by the Torarica Group of Hotels junior chef Yamuro Zuiverloon. He also won "Junior Chef of the Year" in last year's competition. What made it even more special is that, for the first time, a junior chef had won this award.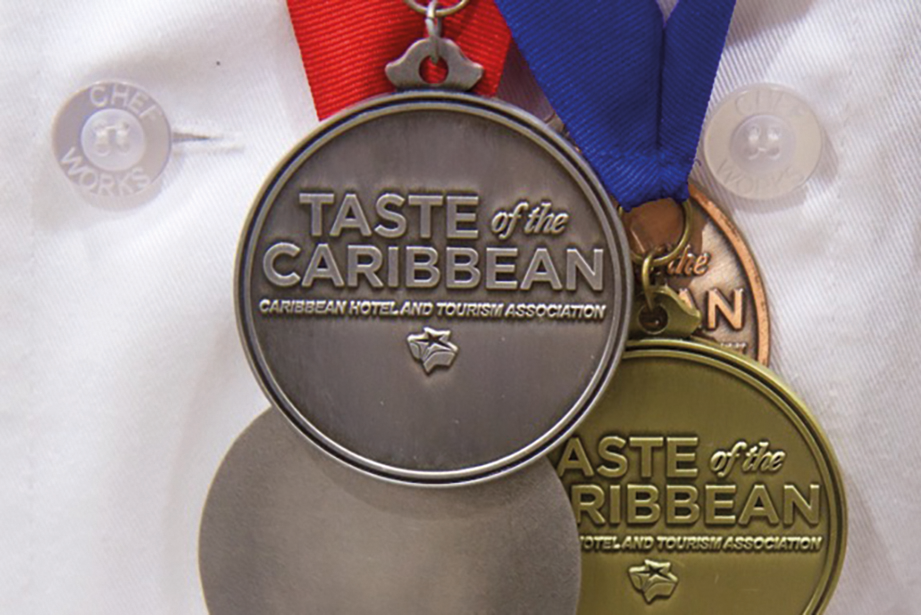 Pastries are one of kind and are the perfect ending to a delightful meal. The pastry chef in the team won Pastry Chef of the Year. This is another accomplishment because until recently pastry chefs were hard to find. The Surinamese kitchen usually only focuses on the main course. We love big meals, which often consists of meat, white rice and greens, as you would find around the Caribbean. Usually when desserts are served, it is a slice of Surinamese cake or ice cream. During the last 10 years, chefs have been stepping out of the box, and experimenting with creating unforgettable pastries. They mix local ingredients on their way to perfecting the presentation. Local favorites are "Bojo," a cake that is made from cassava, and "Viado," also called a rose cake because the top of the cake looks like roses. In the end, the team walked away with gold, silver and bronze medals, in addition to the Hans Schenk commemorative award.
What does the future look like for this team and cuisine in Suriname?
At the moment there is no culinary institute in Suriname. In 2018, there are plans to train more chefs, and to also highlight the culinary arts of the tribal community. There are also plans on holding year-long culinary events.
Restaurant Week
For an entire week, you can have dinner at well-known restaurants for a discounted price. This event is held twice a year: At the beginning and middle of the year.
Fete de La Cuisine
Each year, starred chefs travel from Europe, and host dinners to raise funds for the less fortunate. Every year, there is a surprise factor at the event. This year singer Oleta Adams graced the audience with her beautiful soulful voice.
Men's Cookout
This is a fundraising event organized by the internationally known women's organization Quota. This event usually takes place in November-December, and is held each year at Torarica Group of Hotels. Groups of men form teams and cook up a storm of delightful delicacies. The proceeds of this event also go to the less fortunate.
In November 2017, the Suriname Chef's Association will attempt to set a Guinness World Record for the largest pot of mixed rice and peas. We are sure this endeavor will also be accomplished.