Cassava Yuca
: Max Resomardono & Sherwin Alexander
: Max Resomardono
: Popular Places Magazine edition 11
In this edition we have decided to use Cassava as the main focus in our dishes. Cassava is well known in the Caribbean and throughout Latin & South America. For centuries it has been the staple to many cuisine and dishes throughout the world including Nigeria and Indonesia. In China they are developing it to be a Biofuel for the next generation.
This year, The Culinary Team of Suriname participated in the Taste of the Caribbean and used Cassava in many of their dishes. At the end they won an award of using a common local ingredient at their best.
We teamed up with Executive Chef Sherwin Alexander of Torarica Hotel who brought his creativity and skills to work by using classic local dishes with some gastronomy. With these dishes he hopes to empower local and international young chefs to believe in local and simple ingredients. With the right balance of techniques and ingredients, chefs can put the Surinamese Cuisine on the culinary world map.
Dishes from Chef Sherwin
Moksi Alesi Anitriberi
Recipe for 4 servings
Ingredients
2 cups of white rice
100 gram of salt fish
100 gram of dried baby shrimps
2 teaspoons of coconut oil
1 clove of garlic
A quarter of an white onion
1 piece of celery
2dl of coconut milk
2dl of water
Steps
Boil the salt fish in water and remove excess salt to your taste. Strain the salt fish until all moist is removed. Rinse the shrimps and set to strain. Wash the rice until the water comes clear.
Dice onion, garlic and celery finely.
Place the coconut oil in a pan at medium heat and sauté, Then add the salt fish and shrimps and sauté for 4 minutes.
Add the white rice, water and coconut milk, stir until all is mixed in the pan and cook at medium heat for a 15 to 20 minutes until rice is properly cooked. Place a cover on the pan and let it dry steam for a 10 minutes.
Serve with garnishes of Fried Plantain, pepper and assorted Pickles of Papaya, Cucumber, red onions, okra or bitter tomatoes.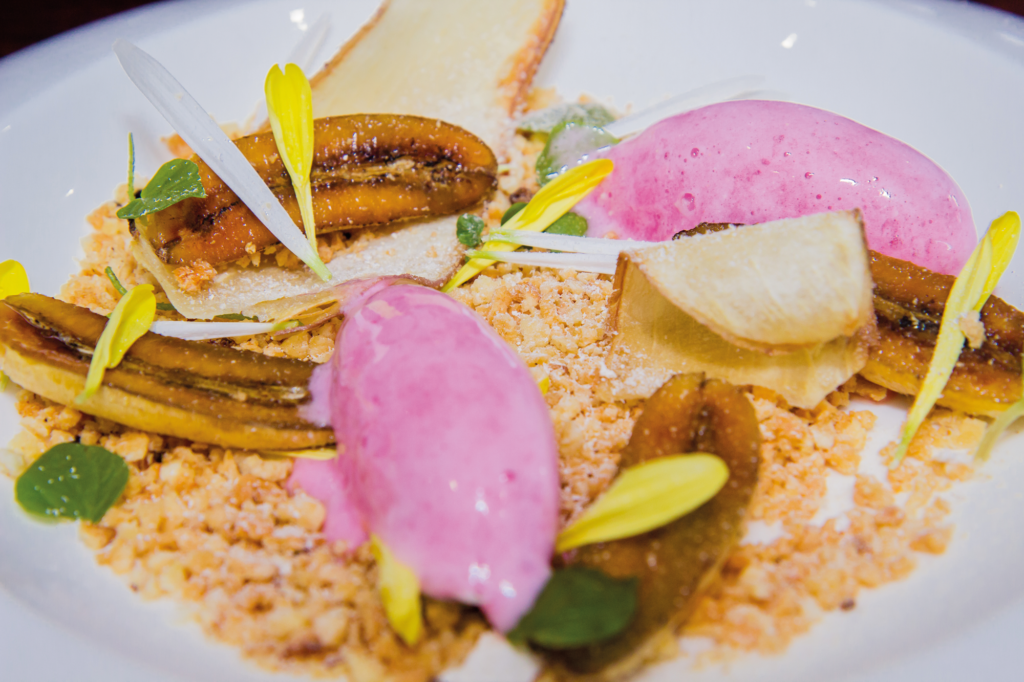 Cassava Beer "Kasiri" Sorbet
Ingredients for 4 servings
1 liter kasiri ( cassava beer)
2dl simple syrup
4 gelatin sheets
Preparation
Let the gelatin soften in a bowls of ice cold water and
Place the Kasiri in a sauce pan along with the simple syrup and bring to a boil
Add the gelatin to the Kasiri and dissolve the gelatin properly
Remove from heat and let the mixture cool in the refrigerator until cold
Add to a sorbet machine and set at 20 minutes.
Crumble
4 egg whites
100 gram of white sugar
200 gram of Domi
100 gram of fresh grated coconut
Preparation
Beat the egg whites with the sugar until a firm meringue is formed
Dry the Domi and Coconut for 10 minutes in the oven and let cool off
Mix the Domi and coconut with the egg whites and bake in the oven t 170 Celsius for 20 minutes.
After 20 minutes this should be an airy sponge. Remove from the oven and let it cool. Place this in a food processor and chop as course of fine as you wish.
Place this back in the oven for 10 minutes until golden brown
Remove from the oven and let is cool and it will become crisp, to balance a pinch of salt to enhance the flavor
Serving
Place the crumble on a plate or in a bowl and add a scoop of the Sorbet. You may also garnish this with finely diced fruits and edible flower petals.